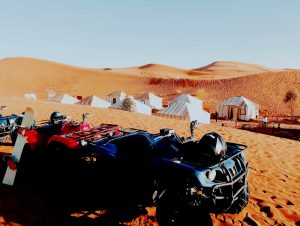 Would you like to explore the desert by quad? We are also offering quad adventures through in Merzouga desert.
Quad biking is easy and you don't need any experience in advance, unlike other tracks. Experienced staff will be at your disposal to provide you with tips and guidance that would make your adventure more comfortable and more exciting …
During the excursión you will drive through the ever-changing dunes; weave through the trackless desert, tackling both low and high dunes. From the highest dunes, you will see Argelia and the black desert. You will be able to drive close to the border between Argelia and Morocco and visit the Berbers living over there.